2 tags
Harper Supports Car Thieves
Yep, you read that right. Last week in the House Judiciary Committee, Crazy Jack said: "We shouldn't go forward with clogging our prisons with property crimes…that sometimes could be accidental." He was referring to a proposal that would treat a person who keeps a rental car beyond the return date as one who has stolen the vehicle. If a driver doesn't return a...
3 tags
A Legacy of Legislative Lunacy →
We thought we had completely covered the silliness that is Crazy Jack Harper. But wait. There is more…much more. Read this article for some more history on Crazy Jack. And we're looking forward to Crazy Jack's next two years in the Arizona House of Representatives. Crazy Jack was term-limited from the rare air and lofty position as a State Senator…only to run for the...
6 tags
4 tags
11 tags
U.S. Congressman Refutes Another Harper Lie
To: LD4 Republicans From: Chairman Lyle Tuttle in behalf of Jeanette "Jet" Dubreil Reg: False accusations U.S. Congressman Refutes Another Harper Lie Legislative District 4 Republicans held a regular monthly meeting on August 16, 2010. U.S. Congressman Trent Franks was the guest speaker. The next day, The Arizona Capitol Times reported...
6 tags
Harper Didn't Pay State, Federal Taxes; Keeps...
Harper keeps lying to voters, this time on Facebook: "Jack W. Harper August 18 at 9:14pm That site was started by one of the candidiates for State Senate in my legislative District and his paid campaign anager updates it. Some of it is petty, some of it misleading, and one thing is doctored. A couple things are out-right lies. The inportant thing to remember is that I definately paid all...
4 tags
3 tags
Harper Caught Lying. Again. →
Jack Harper continues to lie to voters. And gets caught. Over and over again. Harper is unfit for public office. With so many other good conservatives in the Legislative District Four House race, it's time for the voters to dump this incumbent. Dump Crazy Jack Harper.
6 tags
5 tags
Watch
Crazy Jack Harper has the inside scoop as to the Human Resource practices of the Arizona Republic. Boy, can't sneak anything by you, Crazy Jack. Jack also said that being endorsed by the Arizona Republic is the "death" of conservatives. And then Crazy Jack says that he was endorsed by the Republic. Odd, but telling.
4 tags
5 tags
3 tags
3 tags
5 tags
Harper Demands Campaign Cash from Photo Radar... →
Jack Harper says that he is against photo radar. Fair enough. But it has been pointed out by CameraFraud.com that he has solicited campaign contributions from the Photo Radar industry, specifically American Traffic Solutions. Isn't that hypocrisy akin to voting Pro-Life and asking for contributions from Planned Parenthood?
3 tags
5 tags
7 tags
1 tag
4 tags
2 tags
Anonymous asked: Who writes this website?
5 tags
5 tags
5 tags
2 tags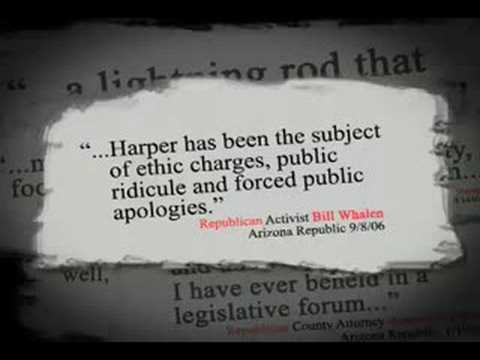 3 tags
Harper sold his vote to support sales tax referral →
"The biggest changes came at the hand of Sen. Jack Harper, a Surprise Republican who tied his support of a sales-tax referral to the approval of a series of four budget amendments…Harper said he could only support a sales-tax increase sought by GOP Gov. Jan Brewer if legislators take the steps to further reduce the size and scope of state government."
2 tags
1 tag
6 tags
Harper is hiding public records!
State Senator Jack Harper refuses to release records that will show he requested special legislation that would allow only a specific make of vehicles that would be able to use the HOV (High Occupancy Vehicle) lanes. Not coincidentally, Harper was the Fleet Manager for Yates Buick GMC in Buckeye. He was fired from that job. Any guess what the make of the vehicles were that Crazy Jack selected...
2 tags
2 tags
4 tags
6 tags
4 tags
4 tags
""I will stand up in (Harper's) church, in public, and say that he's a liar for..."
6 tags
4 tags
I went bankrupt and stuck creditors, taxpayers... →
When the economy was roaring along in 2004, Jack Harper declared bankruptcy and stuck banks, family members and taxpayers with the bill. He had his state and federal taxes wiped away! And now he's using those same financial 'skills' at the state of Arizona. Harper traded his vote for a $17 million pork project in his district. He traded his vote for a $1 million budget cut in...
6 tags
""The Bible tells us not to charge usury when you loan money to people...."
3 tags
9 tags
7 tags
10 tags
I supported the sales tax increase! →
I traded my vote to put the sales tax increase on the ballot. Wanna know what I got? In exchange for me being sorta kinda guaranteed a cut of 1,700 state jobs (most of which were vacant, already) and a cut of $1 MILLION from the Auto Theft Authority, I agreed to put a $1 BILLION sales tax increase on the ballot. What a steal!
3 tags